This excellent biomass boiler is a highly efficient hot water boiler specifically designed for operation with biomass fuels.
This heavy duty heating boiler is highly efficient and specifically designed for operation with dry biomass fuels (up to 35% moisture content), including pellet, wood chip and briquettes. The boiler body is made of welded steel and has a water cooled combustion section as well as a three pass flue gas section with automatic cleaning for maximised heat recovery.
P500 is offered in four sizes, rated power between 200-1000 kW.
A modern, reliable burner for pellets or wood chips is connected to the front of the boiler. Function and safety ancillaries are pre-assembled on boiler and burner and connected to the controls. The vertical flue gas tubes are cleaned with motorised turbulators that also act to improve heat transfer to the circulating water.
The boiler may be used at smaller heat plants like, for instance, greenhouses, industries and sawmills.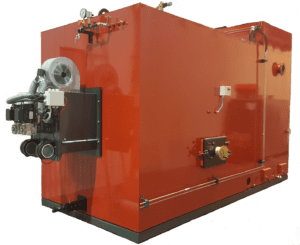 Type of fuel: Pellets or dry wood chips
Efficiency: Approximately 90% degree of efficiency
Output effect: 200 - 1000 kW output
Normally delivered with a biomass burner for dry fuels