The PB2L is a modern, vertical flue gas tube fitted biomass boiler with low emission values and high operation safety.
The boilers vertical flue gas tubes are fitted with an automatic cleaning system that guarantees a consistently high boiler efficiency is maintained without the need for frequent shut downs or manual cleaning. This reduces both labour- and alternative fuel costs.
An automatic ash discharge system is included in the boiler's scope of delivery — this helps in reducing the human effort during the firing season even more. In order to augment the flexibility, two different control systems are offered — one more basic, and another more comprehensive that controls the whole boiler process.
The hydraulic, stepped grate automatically moves the fuel through the combustion chamber and discharges the ash in the internal ash auger that's included in the standard delivery, another factor that minimises the manual efforts during the firing season. By keeping the fuel bed moving, the creation of cinder is kept at a low level.
The boiler is controlled with a computerised system whose main task is to adjust the combustion according to the current load in order to maintain a constant water temperature. The computer receives a signal from the flow water temperature sensor and then regulates the negative pressure of the furnace, the grate movements and the fuel infeed. The combustion air will then be regulated by the furnace's negative pressure. This is a simple and reliable method that also provides a constant regulation across the output range.
PB2L is a smaller version of PB2 with a simplier control system.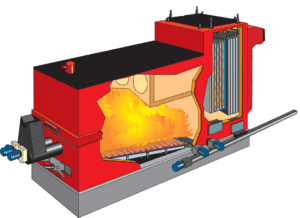 Type of fuel: Can be used with pellet, briquettes or wood chip
Efficiency: Approx. 94% efficiency rate
Output effect: 350–995 kW output
Vertical flue gas tubes with automatic, hydarulic cleaning