Robust boiler based on reliable technique with high degree of efficiency.
The Osby Parca GTP has a cylindrical furnace and a tube equipped convection section where the flue gases pass in two strokes without turbulators.
The boiler is of welded steel and the the furnace, the turning chamber and the convection tubes are completely water cooled. The boiler is self-circulating, this treat provides an even water temperature throughout the boiler. This boiler is based on a very reliable design and is primarily intended for firing oil or gas but it can also be adapted for firing modern fuels, such as bio oil and bio gas.
Cleaning of the flue gas tubes is carried out from the front through a large insulated door. Cleaning during operation can be performed using for example steam or compressed air.
This boiler type is also available as a steam boiler; GTP-Å.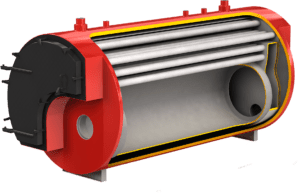 Type of fuel: Oil, gas, bio-oil, and bio-gas
Efficiency: Approximately 94% efficiency rate
Output effect: 1.5–12 MW output
For oil and/or gas burners
Countersunk welds (Osby Parca standard)
Horizontal flue gas tubes