Boiler room Biomass 1 - 5 MW
Here is room for a solid fuel boiler model PB2, flue gas cleaning, control system and further necessary equipment inside the walls.
The building consist of two docked rooms, fully isolated with doors and windows according to your request.
Adjacent to the plant a suitable fuel storage is placed, in this case pellet silos.
Contact us for more information and/or a quotation!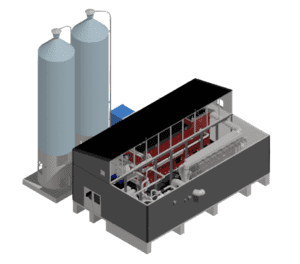 Plant type: Pre-fabricated boiler room
Type of fuel: Pellets, briquettes or wood chips
Efficiency: 90 – 94% efficiency rate