Boiler room Oil/Gas 1 – 10 MW
A boiler plant with an oil or gas fired fire tube boiler with a suitable burner, control cabinet etc.
Outside there is a chimney and an oil or gas tank (not shown in the image).
Contact us for more information and/or a quotation!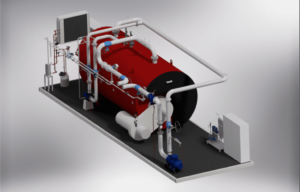 Plant type: Pre-fabricated boiler room
Type of fuel: Oil, gas, bio-oil, and bio-gas
Efficiency: Approximately 94% efficiency rate (GTP)